Digital Creation Kits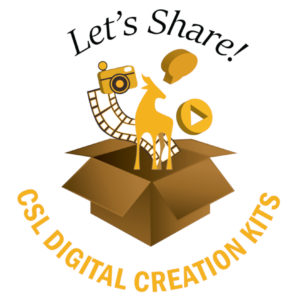 In order to ensure that small and rural communities have the opportunity to share and preserve their stories and local history, the Colorado State Library (CSL) offers Digital Creation Kits to libraries and cultural heritage organizations that wish to participate in the Plains to Peaks Collective (PPC), and by extension the Digital Public Library of America (DPLA), but don't have the funds to purchase digitization equipment, and/or don't have a long-term need for it. Kit contents are designed to make archive creation more accessible, and give our communities the resources they need to begin sharing their stories digitally.
Staff in Colorado libraries may check out kits directly from the State Library through the CSL AspenCat Catalog at https://csl.catalog.aspencat.info/ for 2 months at a time and may renew if there is not a hold on that kit.  Kit contents are meant for use by the borrowing institution, and not intended to be checked out to individual patrons. The Digital Creation Kit is available for loan to in-state, non-library organizations (e.g. museums, archives, etc.), but special arrangements will need to be made for delivery and return.  If you are interested in borrowing the kit, but are not a library (and thus not on the Courier system) contact Kit Support directly at KitSupport@coloradovirtuallibrary.org.